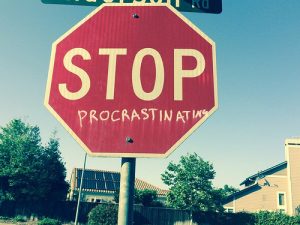 Procrastination = Resistance
We can always find a "good" reason to not do something. This procrastination happens because we have some sort of resistance to doing that thing – and often this resistance is happening at a non-conscious level, outside of our awareness.
The resistance could be something like:
It won't work anyway
What if I fail
I'm not worthy
They might say no
It is not fun
I cannot see the "how"
Fear of being judged
. . . and many other possibilities
If we don't explore consciousness and uncover and then let go of the resistance, we will keep procrastinating.
An easy way to do this is to simply ask yourself, "Based on my resistance and procrastination, what must I believe?" Then sit quietly and usually an answer shows up.
Jonathan
Help me out please ~ if this Daily Dose spoke to you, forward it to someone who would benefit from this message. Even better, invite them to subscribe. Help me in my mission to help people to do better and to live better. Thanks!
photo credit: Lynn Friedman <a href="http://www.flickr.com/photos/72959997@N00/17469987531″>STOP procrastination</a> via <a href="http://photopin.com">photopin</a> <a href="https://creativecommons.org/licenses/by-nc-nd/2.0/">(license)</a>