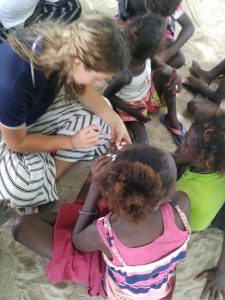 Young people cracking the code
On Wednesday, we drove around Buka Island to the village of Kesa where the YWAM (youth with a mission) medical ship, Liberty, was anchored.
I saw something there that absolutely filled my heart with joy. I saw a bunch of young people (18 to mid-twenties) and some older people too who were happy, full of peace and contentment, and radiating joy. This was all over their faces. It was beautiful.
These people have cracked the code. They know that true happiness can only come from service and contribution. And, that is what they were doing. They were serving people, supporting them, loving on them, and connecting while delivering health and health education. The whole environment was filled with peace and love. It was very tangible.
The opposite of this is "what about me" and no one has ever found happiness following that path. We were designed to serve and contribute.
If you want more joy in your life, figure out where you can serve and contribute. Start loving on people more and see what happens.
Much Love,
Jonathan