Who do you think you are?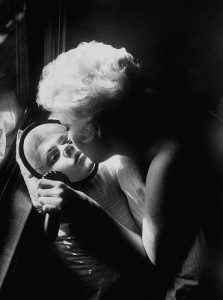 We might have heard "who do you think you are?" when we were kids and an adult disapproved of our behavior.
But, it really is a great introspective question. Who do you think you are? Is that thinking expansive or contracting, freeing or limiting, empowering or disempowering?
Which parts of who we think we are could use an upgrade?
Who do you think you are ~ amazing, talented, fabulous, worthy of the best life has to offer – or something less than that?
Much Love,
Jonathan
I write these Daily Doses because I know that my content does make a difference and helps people live better lives. So, if you know someone who would benefit from today's thoughts, please pass this on. Thanks and gratitude in advance!
photo credit: giovannaemilianispinelli Movie actress, Kim Novak, on bed looking into broken mirror. (Photo by Leonard Mccombe//Time Life Pictures/Getty Images) via photopin (license)