When yes means no and no means yes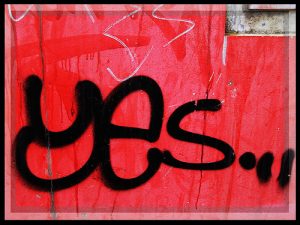 When we say "yes" to doing something then we are saying "no" to everything else. For example, when I say "yes" to a coaching session then that is the only way I can use that one-hour time. All the hundreds of other ways that I could use that time – I've now said "no" to.
When I say "yes" to making a purchase then I've said no to all the other things that I could possibly buy with that money.
When I say "no" to eating unhealthy foods then I am saying "yes" to health, wellness, slimness, etc.
When I say "yes" to wasting time then I am saying "no" to my dreams, to growing my business, to a better life.
Often, we can get caught up in deprivation thinking and fear of missing out. This usually results in behaviors that are not in our best interest.
For example, people will eat foods they know they are not supposed to because the food is there and they don't want to deprive themselves. They don't want to miss out on that opportunity to have the desert.
I used to be that way but then I switched my thinking. I'm not being deprived of anything. The desert is there. I could have it if I wanted to. I just don't want it. I'd rather say "yes" to health and a smaller waist. (I haven't had a desert or sweet snack since May and it has been totally easy because of this switch. I'm not even tempted.)
It isn't about what we are saying "no" to – it is what we are saying "yes" to.
p.s. 2017 Daily Dose of Jonathan Calendar available now
Much Love,
Jonathan
I write these Daily Doses because I know that my content does make a difference and helps people live better lives. So, if you know someone who would benefit from today's thoughts, please pass this on. Thanks and gratitude in advance!