Value to offer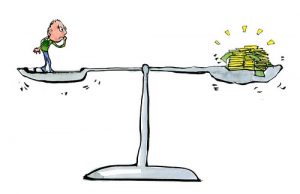 Generally speaking, whatever we deem valuable, we are willing to pay for. We pay for value.
And, a common bit of head trash is people not owning their value – "I have value to offer!!!"
When this happens, we get in our own way of getting paid.
It is so important to recognize and own your value – your skills, gifts, experience, expertise, education, and non-tangibles like kindness, loving people, compassion, seeing the good in others etc.
You have a ton of value to offer. So, offer it and get paid for it!
Much Love,
Jonathan
Help me out please ~ if this Daily Dose spoke to you, forward it to someone who would benefit from this message. Even better, invite them to subscribe. Help me in my mission to help people to do better and to live better. Thanks!
photo credit: Frits Ahlefeldt – FritsAhlefeldt.com estimating the value of life via photopin (license)