Value of one push up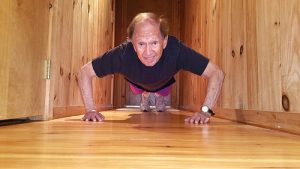 One push up. Does it really matter?
By itself, one pushup is insignificant. It isn't going to change our bodies.
But we cannot have a lot of pushups without a bunch of individual insignificant pushups. So, maybe one pushup isn't so insignificant after all. Each one matters. Each one we do moves us a little closer to our fitness goal. They add up and in aggregate have a big impact on our bodies.
The same is true with our personal growth work. Every time that we let go, change our perspective, upgrade our beliefs, practice gratitude, expand possibility, etc. we move a little closer to our goals. These personal growth activities add up and in aggregate have a big impact on our businesses and on our lives.
Each little opportunity to do personal growth work matters. The more of these opportunities we take, the faster we progress.
Much Love,
 Jonathan
I write these Daily Doses because I know that my content does make a difference and helps people live better lives. So, if you know someone who would benefit from today's thoughts, please pass this on. Thanks and gratitude in advance!
photo credit: Milt, 86, does push-up. via photopin (license)