Tours of meaning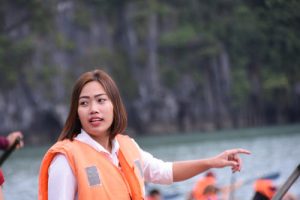 In Shawn Achor's new book, Big Potential, he tells the story of how he was doing a training with the White House staff towards the end of the Obama Administration. The staff members were burned out, tired, and facing the uncertainty of what comes next because the new President (regardless of who won the election) would be bringing in an all new staff.
So, their job satisfaction and motivation were not very high. However, Shawn found that the thing that still juiced these staffers was giving tours of the White House. He suggests that we use this strategy in our lives too – give tours of meaning.
I volunteer a lot at Project CURE and was tired of leading the new volunteer orientation which includes a warehouse tour. I just wanted to get busy doing the volunteer work of sorting the donated medical supplies.
Shawn's advice woke me up to the power and potential of these tours. Now I give orientations and warehouse tours of meaning!
I'm using this time to remind me what a beautiful and amazing organization Project CURE is and why I volunteer there in the first place. Over the last 30 years, we have delivered hope and health (and love) to millions of people around the world and I'm a part of that!
Furthermore, the orientation and tours aren't for me. They are to serve the new volunteers, to help them catch the big vision of what Project CURE is all about, and to help them grasp the significance, value, importance, and impact of their volunteer time. Two or three hours of their time in Denver blesses people all over the world!!! That's very cool!
So, if you are ever in Denver and want a tour of Project CURE, I'm your guy. And more importantly, where can you use this "tours of meaning" strategy in your life?
Much Love,
Jonathan
Help me out please ~ if this Daily Dose spoke to you, forward it to someone who would benefit from this message. Even better, invite them to subscribe. Help me in my mission to help people to do better and to live better. Thanks!
photo credit: shankar s. She was as charming as she was efficient- without being rude via photopin (license)