Stronger Together
When I was a commercial fisherman in Alaska, all the lines we used were three stranded (cowboys use ropes, fishermen use lines). It took an amazing amount of pressure to break those lines. And sometimes one strand would break but the other two allowed the line to still function until we could repair it.
So often people are trying to do the lone wolf/ lone ranger/ John Wayne thing and do it all on their own rather than partnering, asking for assistance, allowing others to contribute to them, and the like. They are being a single stranded line which makes them weak and vulnerable.
This is seldom, if ever, the best strategy but it is frequently used because people are trying to prove that they are good enough or because they don't know better.
Ecclesiastes 4:12 says, "Though one may be overpowered by another, two can withstand him, and a threefold cord is not quickly broken.
Who can you bond/bind with to become stronger together?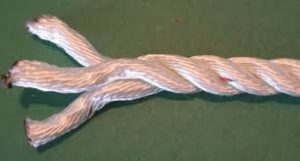 Much Love,
Jonathan
Help me out please ~ if this Daily Dose spoke to you, forward it to someone who would benefit from this message. Even better, invite them to subscribe. Help me in my mission to help people to do better and to live better. Thanks!