Sometimes it is useful to put ourselves in a tough spot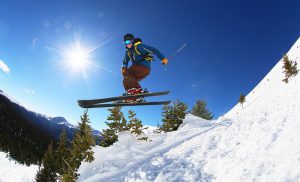 While skiing today, I ended up on top of a ledge that was about 4 feet tall. While I was debating the merits of skiing over the edge (I'm not a big air guy) a boy and girl in their ski team jackets stopped next to me. They were about 8 years old.
I asked the boy if he was going to do it and he said he thought he would. Then he did. Then the girl looked at me and said, "why don't you go first." So I did.
At that moment, retreat didn't seem like a very good option.
We can use public promises and commitments in much the same way. We can put ourselves in a position where retreat seems to be a worse choice than bold action.
And just like I survived my ski jump, we will survive the bold actions. I even went back and jumped off that ledge a couple more times.
Much Love,
Jonathan
I write these Daily Doses because I know that my content does make a difference and helps people live better lives. So, if you know someone who would benefit from today's thoughts, please pass this on. Thanks and gratitude in advance!
photo credit: reid.neureiter aOC1A1869 via photopin (license)