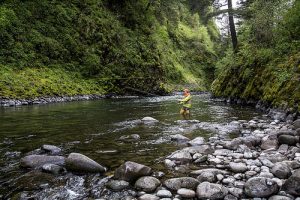 Recognizing Progress
2 years ago I wrote a Daily Dose about my fishing trip to Alaska. I talked about how I was frustrated because I had so many salmon on but couldn't land any of them. Meanwhile other people around me were landing fish after fish. However, there were also people who were frustrated by me because I was having far more action than they were. So, a different perspective would have allowed me to be grateful rather than frustrated.
Well on this year's trip, I had a streak of lost fish that made the streak from 2 years ago look like child's play. I had well over 30 salmon laugh at me. Some were on for just a short time, some were on longer, and some would have been sure catches if there was someone there to net the fish for me (sometimes I was the only one fishing and netting your own salmon greatly adds to the level of difficulty, especially since the river was about 1 foot higher than normal).
This was an opportunity for me to recognize and appreciate how much progress I've made over the last 2 years ~ progress in loving, accepting, and approving of myself ~ progress in my emotional maturity ~ progress in my commitment to happiness.
2 years ago I got super frustrated and took it personally, like God was out to get me or something ridiculous like that – like catching salmon is a measure of my self-worth. Once or twice I came super close to throwing my pole as far as I could into the woods out of sheer frustration. When someone tried to net a salmon for me and instead knocked it off, I almost had a stroke.
I experienced suffering ~ salmon suffering.
This year there were no tantrums. I was able to laugh at myself and have fun with it which made it safe for my family and friends to laugh with me – and they did.
It is so important for us to be able to see our progress and to even look for opportunities to see it. Seeing our progress builds confidence and lets us know that what we are doing is working which is tremendously reassuring and nourishing.
Much Love,
 Jonathan
I write these Daily Doses because I know that my content does make a difference and helps people live better lives. So, if you know someone who would benefit from today's thoughts, please pass this on. Thanks and gratitude in advance!
photo credit: #TravelTuesday with My Public Lands via photopin (license)