Power of Kindness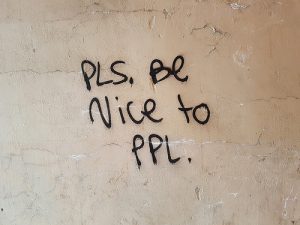 Think a minute about the power of kindness and how we have the choice to be kind, to be the deliverers of kindness.
We cannot know the numbers for sure but, how many people's lives might have been turned around if they had only received kindness and understanding. Bullies, violent offenders, murderers, suicide victims, etc. ~ any of these people's lives might have turned out very different if someone at the right time extended kindness.
We have that power which means we have the power to change lives and to change our world.
Much Love,
Jonathan
Help me out please ~ if this Daily Dose spoke to you, forward it to someone who would benefit from this message. Even better, invite them to subscribe. Help me in my mission to help people to do better and to live better. Thanks!
photo credit: Exile on Ontario St Please be nice to people via photopin (license)