Moving cows and changing the world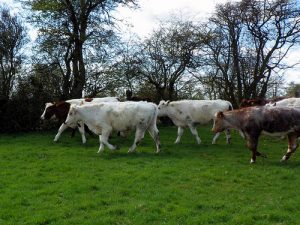 Let's start with a disclaimer: I am not a cow scientist so this could be inaccurate.
When cows move, they don't have a big planning meeting first to determine the optimal direction. Instead, one cow starts moving. Then another cow sees the first cow moving and thinks, "hey (not hay) that cow is moving, maybe I should follow. Then another cow sees two cows moving and joins in and suddenly, organically, there's a movement of cows across the pasture.
When there's a change we'd like to see in the world, it is easy to get caught up and even derailed by the thinking of – How can I possibly do that??? How can I get the multitudes to follow me??? How can I inspire change??? What can I, one little person, actually accomplish???
Instead, we just need to be like that first cow and start moving in the new direction. Others will notice and some of those will be inspired to join us.
Ghandi said it so well, "Be the change you want to see in the world."
Much Love,
Jonathan
Help me out please ~ if this Daily Dose spoke to you, forward it to someone who would benefit from this message. Even better, invite them to subscribe. Help me in my mission to help people to do better and to live better. Thanks!