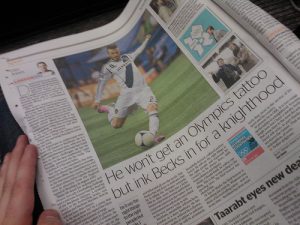 Knighthood
If you were to be knighted, what would your title be – e.g. Sir Jonathan the Kind or Lady Jane the Wise -etc.
And then, are you living up to your title?
Jonathan
Help me out please ~ if this Daily Dose spoke to you, forward it to someone who would benefit from this message. Even better, invite them to subscribe. Help me in my mission to help people to do better and to live better. Thanks!
photo credit: whatleydude <a href="http://www.flickr.com/photos/85318305@N00/7463243840″>Becks Becks Becks Becks Becks</a> via <a href="http://photopin.com">photopin</a> <a href="https://creativecommons.org/licenses/by/2.0/">(license)</a>