Kindergarten compassion or PhD compassion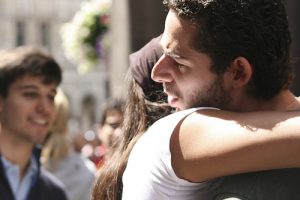 It is relatively easy to have compassion when a natural disaster strikes or when a tragedy hits people that we don't know. And hey, compassion is a great response to those sorts of things. And, that's the kindergarten level of compassion. It is easy.
But what about those situations where the choices and behaviors of a loved one are negatively impacting us and our lives? Can we have compassion then rather than annoyance or indignation or frustration? Can we realize that their behaviors, no matter how bizarre, make perfectly good sense based on the underlying stories they are telling themselves – and then have compassion for them because they are under the influence of a lousy story? (Which by the way, you and I do this too). This kind of compassion is a lot harder. This is PhD level compassion.
Although PhD level compassion can be challenging at times, it is probably also the answer to these questions: How do I want to show up in this world? What kind of impact do I want to create? How do I want to be remembered? How do I want to be treated? How do I want to live my life? What will give me the most peace of mind?
Jonathan
Help me out please ~ if this Daily Dose spoke to you, forward it to someone who would benefit from this message. Even better, invite them to subscribe. Help me in my mission to help people to do better and to live better. Thanks!
photo credit: RedAndre Free Hugs @ Grand Place, Brussels via photopin (license)