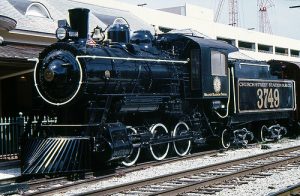 I've Been Working on the Railroad
Imagine working on a railroad crew back in the days when they were building the first transcontinental railway.
The engineers and the surveyors knew where the railroad was going and what was up ahead. But for the vast majority of the workers, the job was just to lay that next railroad tie a foot or two from where they put the last one.
A foot or two at a time, repeated millions of times, ended up creating a transcontinental railway.
So often in life, we are more in the position of the laborers than the engineers and surveyors. We just need to do that thing that is right in front of us. And oftentimes, we cannot possibly know where it will lead to.
For example: the conversation we have today could plant a seed that sprouts 5 years from now. A kind supportive word today could change someone's life who in turn creates an organization that has global impact. We just don't know.
And, the only thing we can really control is putting in that next railroad tie, doing what is in front of us to do. And that's where we have a choice. Do we do it or not do it?
Much Love,
Jonathan
p.s. laser coaching available 303.552.7285
Help me out please ~ if this Daily Dose spoke to you, forward it to someone who would benefit from this message. Even better, invite them to subscribe. Help me in my mission to help people to do better and to live better. Thanks!
 photo credit: Stefan Ulrich Fischer <a href="http://www.flickr.com/photos/110656694@N07/41789750975″>Orlando 1990</a> via <a href="http://photopin.com">photopin</a> <a href="https://creativecommons.org/licenses/by-nc-nd/2.0/">(license)</a>