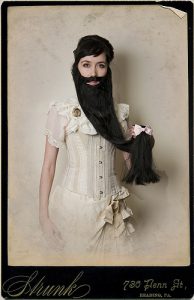 Isn't that interesting aka the freak show
It is a little known fact but we actually don't have to take it personally when someone is in a bad mood, treats us poorly, misbehaves, or behaves in a way that we don't like.
Rather than taking it personally, a much better option is to look at that person and think, "Isn't that interesting! I wonder what is going on in his or her world or head that would produce this."
Back in the old days there used to be traveling freak shows – world's strongest man, the bearded lady, shark boy, and the like. You'd pay your nickel and go into the tent and look at all of the oddities. Then you would go home. You wouldn't take any of the freaks home with you.
When people are showing us their personal freak show exhibit, we don't have to take it home with us. Leave it there. Shake your head. Say, Isn't that interesting!" And then get on with your life.
Much Love,
 Jonathan
I write these Daily Doses because I know that my content does make a difference and helps people live better lives. So, if you know someone who would benefit from today's thoughts, please pass this on. Thanks and gratitude in advance!
photo credit: bearded lady via photopin (license)