Inner Attorney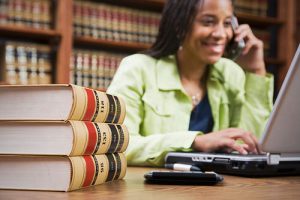 What would happen if we fired our inner attorney – you know that guy or gal inside of us who starts building a big dramatic case as soon as someone doesn't behave the way we think they should. The attorney is amazing at coming up with all kinds of reasons why we are right and the other person is wrong and at fault – and probably should be punished.
Here's the thing – our inner attorneys have never once made our lives better, created greater peace and happiness, or deepened our connections. So, why in the world do we keep listening to them and take their counsel?
Next time you hear your inner attorney, tell him or her – "You are fired!" and see what happens.
Help me out please ~ if this Daily Dose spoke to you, forward it to someone who would benefit from this message. Even better, invite them to subscribe. Help me in my mission to help people to do better and to live better. Thanks!
photo credit: JerryBunkers Black woman in law library via photopin (license)