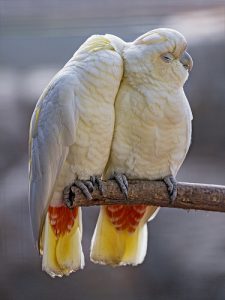 Here to Love
In his book, The Book of Mysteries, Jonathan Cahn says "… if you love only those who love you, then it alters you; then you cease to be light."
As a child of God, we are here to love – regardless of situations or circumstances, regardless of merit or lack of merit, regardless of quality of behavior, regardless . .
We are to love because that is who we are – not parcel out our love based on who they are, or what they have done.
Light is meant to shine. We are meant to shine. This is who we are. Now we need to remember.
Jonathan
Help me out please ~ if this Daily Dose spoke to you, forward it to someone who would benefit from this message. Even better, invite them to subscribe. Help me in my mission to help people to do better and to live better. Thanks!
photo credit: Tambako the Jaguar <a href="http://www.flickr.com/photos/8070463@N03/41646042870″>Two parrots loving each other</a> via <a href="http://photopin.com">photopin</a> <a href="https://creativecommons.org/licenses/by-nc-nd/2.0/">(license)</a>