Discount or Celebrate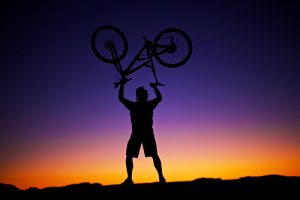 I biked the Bluffs Regional Park Trail this morning.
(This is part of my new plan to devote more time and effort to my physical fitness. The climb up the bluff is a decent workout. It is fairly steep without any breaks.)
I made it to the top just fine but had to use easier gears than I have in the past when I was in better shape.
In moments like these, we have a choice. Do I celebrate my success? I made it to the top. I pushed myself the whole way. I certainly could have gone slower but I did not. I could have even stopped for a little break but I did not. I had fun. I did something I love. It felt good to get outside and exercise. I encouraged the walkers and joggers that I passed. I exercised today. Etc.
Or, do I discount my accomplishment? I've ridden that loop much faster before. I've climbed the entire bluff before using higher gears than I did today. I could have pushed myself harder. Etc.
Which one of these two, celebrate or discount, is going to increase my confidence and my belief in myself and my ability to hit my goals?
Which one of these two is going to bring me more joy?
Which one of these two is going to make my life more enjoyable?
Which one of these two is going to make it more likely that I exercise again tomorrow?
And which one of these two do we do most often in our lives? Do we celebrate, or do we discount?
There's way too much discounting going on and not near enough celebrating!
Much Love,
Jonathan
Help me out please ~ if this Daily Dose spoke to you, forward it to someone who would benefit from this message. Even better, invite them to subscribe. Help me in my mission to help people to do better and to live better. Thanks!
photo credit: Zach Dischner BIker Portrait via photopin (license)