Cruising for happiness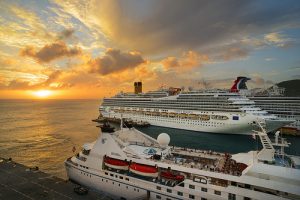 The cruise lines do a fabulous job of training their people to initiate contact, make eye contact, smile, and greet people all day long.
I invite you to have a cruise ship employee kind of day today. Greet everyone you cross paths with today with a little attention, a smile, and an effort to connect and uplift.
Goodness knows that the world can use more connection and kindness. And, chances are pretty good that you will have a more enjoyable than normal day.
Then if you like this, do it again tomorrow.
Much Love,
Jonathan
I write these Daily Doses because I know that my content does make a difference and helps people live better lives. So, if you know someone who would benefit from today's thoughts, please pass this on. Thanks and gratitude in advance!
photo credit: Joe Y Jiang Sunset @ St Maarten Port via photopin (license)