Contribution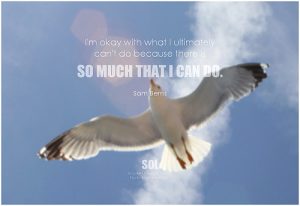 We are wired to contribute and make a difference. It is as natural as breathing. When we are not doing that, we suffer and typically our self-worth takes a hit.
So, when we are feeling kind of puny, a great question to ask ourselves is, "Where can I make a difference?" Then go and make that difference. Invariably you will feel better about yourself and more optimistic about your future.
p.s. Cure for procrastination May 24 www.jonathanmanske.com/procrastinationcure
Help me out please ~ if this Daily Dose spoke to you, forward it to someone who would benefit from this message. Even better, invite them to subscribe. Help me in my mission to help people to do better and to live better. Thanks!
photo credit: symphony of love Sam Berns I'm okay with what I ultimately can't do because there is so much that I can do via photopin (license)