Being a purple cow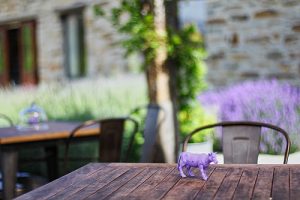 I had a conversation today with some friends about follow up that reminded me of Seth Godin's book, Purple Cow, that came out in 2003.
The book in a nutshell is: After you've seen a bunch of cows, you stop paying attention. But if you saw a purple cow, you'd start paying attention again because it would really stand out from the rest of the herd. The challenge then is how can we make ourselves stand out from all the rest of the cows?
Here are a few ways that you can be a purple cow of follow up:
Actually follow up at all (so many people don't).
Follow up promptly (also not too common).
Create a specific agreed upon time to follow up.
Be curious about that person and about how you might contribute to him or her.
Be off-the-charts kind
Be creative in a way that's relevant – for example, if my motto was "I get your business cooking", I might send strategic partners an oven mitt with my logo on it so that I stay top of mind.
Lead with your why rather than what you do or how you do it (google Simon Sinek for more on this).
Figure out clever ways to deal with some of the follow up awkwardness. To much time has passed – "follow up at the speed of a thundering turtle". Check back with me later – "I don't want to be a pest, so tell me how you'd like me to do that." Haven't heard back after multiple attempts – "I have no desire to be a pest, so I'll leave the ball in your court. If we should talk, call me. If I don't hear back from you, I'll close my file on you." Etc.
(My favorite), pray for guidance about who you should reach out to.
And so many other ways that you could stand out.
Are you standing out? Cows are boring. Purple cows are fascinating. So, be purple.
Much Love,
Jonathan
Help me out please ~ if this Daily Dose spoke to you, forward it to someone who would benefit from this message. Even better, invite them to subscribe. Help me in my mission to help people to do better and to live better. Thanks!