Average is okay???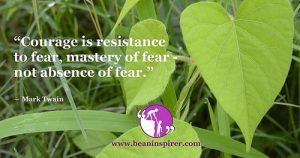 If your goal is to be average and to live a mediocre life, then you do not need to push yourself. And, this is a valid choice – boring but valid.
However, if we want more from life, we will have to push ourselves. Oftentimes we won't feel like doing this.
These are the moments when we get to choose ~ Do I want an average life? Or, do I want more than that?
If we want more than that, then we need to be courageous and do the things we do not feel like doing.
Courage is required. Leaning into the discomfort is required. Doing the things we do not feel like doing is required. ~ Or we can be average and mediocre.
Much Love,
Jonathan
I write these Daily Doses because I know that my content does make a difference and helps people live better lives. So, if you know someone who would benefit from today's thoughts, please pass this on. Thanks and gratitude in advance!
photo credit: beaninspirer Courage-is-resistance-to-fear-mastery-of-fear-not-absence-of-fear-Mark-Twain-Be-An-Inspirer via photopin (license)