And, just have fun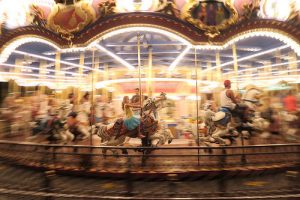 So often we get serious about things when we would be much better served if we were having fun instead.
Fun is far more magnetic than seriousness.
Would you rather buy from the person who is light and fun or from the deadly serious person? Would you rather go on a second date with the light and fun person or the super serious person?
Richard Branson said, "Fun is one of the most important – and underrated – ingredients in any successful venture. If you're not having fun, then it's probably time to call it quits and try something else.
The question to ponder is: how can I have more fun in my business/career/life?
Much Love,
Jonathan
Help me out please ~ if this Daily Dose spoke to you, forward it to someone who would benefit from this message. Even better, invite them to subscribe. Help me in my mission to help people to do better and to live better. Thanks!
photo credit: andredoreto Magical Spin via photopin (license)