Win or be the star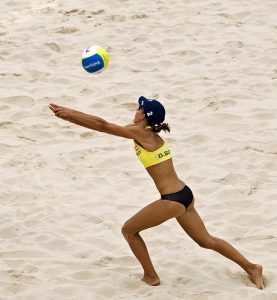 Would you rather win or be the star? Do you prefer the credit or the desired outcome?
Ego, which is driven by our insecurities, is desperate for credit, recognition, and the spot light. This can often get in the way of the desired outcome.
I've seen this many times on the volleyball court where someone is constantly calling for the set even though there are better hitters on the court. This can create friction, disharmony, annoyance, and a lot of losses.
My favorite volleyball season ever was the season we played with 5 people and won the league. We wanted to win and didn't care about individual stats. We had our roles and we stuck to them. Keith was our best hitter and so he got the vast majority of the sets. Mike did all the setting. Dan played defense. Even when he was in the front row, he would drop back and play defense. Mark would hit when Keith was in the back row. I blocked and played defense. We won and we had fun doing it.
If even one of us started worrying about our individual stats, we would have imploded.
Here's a work example: Which of these two leaders would you rather work with? Leader A takes all the credit for what the team has produced. Leader B is always channeling credit and recognition to the team members.
Which team do you think will have greater morale, higher retention rates, and greater productivity?
Being generous with credit and recognition is a great success strategy.
Much Love,
Jonathan
I write these Daily Doses because I know that my content does make a difference and helps people live better lives. So, if you know someone who would benefit from today's thoughts, please pass this on. Thanks and gratitude in advance!