Little fish in a big ocean grows up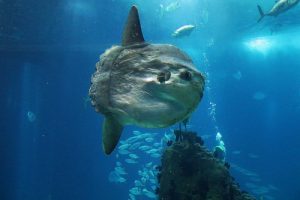 Because of head trash (like not worthy, not ready, success stuff, money stuff and other junk) people often think of themselves as a small fish in a big ocean. "Who am I to be successful? Who am I to be a rock star in my industry? Etc."
However, we can easily expand that limiting thought simply by playing with the metaphor. Even the largest fish, the ocean sunfish, was at one time a little fish who just grew every day. (From Wikipedia ~ The record size sunfish crashed into a boat off Bird Island, Australia in 1910 and measured 14 ft. from fin-to-fin, 10 ft. in length and weighed about 5,100 lbs.)
We too can grow up to be a big fish. Instead of "little fish" being our identity, something that cannot ever change, it is now just a transitory state on the way to better. Instead of a dead end, there is now possibility.
Then the next step is to grow every day!
Much Love,
Jonathan
I write these Daily Doses because I know that my content does make a difference and helps people live better lives. So, if you know someone who would benefit from today's thoughts, please pass this on. Thanks and gratitude in advance! 

photo credit: hans pohl L'océanarium via photopin (license)